Accommodation 'De Hooizolder' consists of two complexes:
'De Hooizolder' and in directly next to it 'De Hooiberg'.
De Hooizolder
'De Hooizolder' has four bedrooms, two with shower in the room. For the other two rooms the shower is on the landing. The rooms are newly built in the hayloft of the primal-old farmhouse. In one of the rooms you can even spend the night in a real bed box!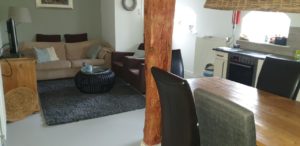 Downstairs there is a guest house with kitchen, where you can cook breakfast, and a cozy sitting area with TV, just nice to relax and enjoy a cup of coffee or tea (for free).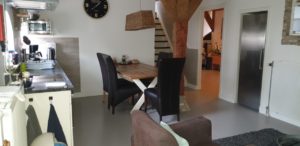 De Hooiberg
Our haysteck (De Hooiberg) with unique view over the polde ris a luxury accommodation, This offers a large common living room with corner kitchen with all appliances and cozy sitting area with patio doors to terrace and a view of the polder.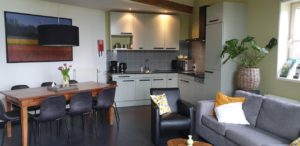 There are three bedrooms, all with private shower, toilet and television.
Large groups
With seven bedrooms is Bed & Breakfast 'De Hooiberg' a perfect place for large groups. Both accommodations have a private terrace for our guests. There is also a barbecue which can be used.
WIFI, Bike storage and parking (free) available.
No breakfast included, but a big kitchen to make it yourself and coffee/tea are already including.
Accommodation 'De Hooizolder'
Rob en Marleen van Zwienen
Bovenberg 126
2861 BD Bergambacht
the Netherlands
Telephone number: +31 0182 38 06 24
E-mail: rvanzwienen@hotmail.com
Website: www.de-hooizolder.nl